| | |
| --- | --- |
| Leffingwell & Associates | Alchemist WebPick Awarded by the webzine of ChemWeb.com |
Tea
A Review by John C. Leffingwell, Ph.D.
This a part of our series on aroma materials produced by carotenoid degradation.
Tea (Thea sinensis or Camellia sinensis ) comes from a bush-like tree and has been valued for beverages for centuries. In many respects the processing of tea is analogous to the processing of tobacco. In fact the so-called fermentation utilized for manufacture of Black tea is similar in many respects to the process for curing Burley tobacco. While green tea does not undergo the fermentation (and retains much of the original "green" flavor [due largely to various cis-3-hexenyl esters], Black tea posseses many of the same carotenoid degradation products as tobacco. It is interesting that both Tea and tobacco contain alkaloids (nicotine in tobacco and caffeine in tea).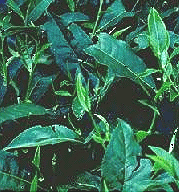 Green Tea in the field

Fermentation of "green tea leaves" for production of Black Tea
This Page is under Construction!
Back to The Carotenoids Page...... Home .......Back to In the News
Other Subjects on the Leffingwell & Associates Site

Copyright © 1999 by Leffingwell & Associates