PFC 2002 - Perfumes & Fragrances Classification database
The classification of 5,500 original extrait perfumes, toilet waters, after shaves and eau de colognes with type, odour, brand name, year and, if known, creator and glassware designer;
A qualitative (or semi-quantitative) indication of the composition of over 4,000 of the most modern perfumes;
References to some recent American, French and German perfume classifications and to general literature concerning the fragrances;
The possibility to search on Name, Type, Odour and Composition.
(Version 2002 / 4th Edition; 1 CD-ROM; Size: 21.6 MB; Network version available)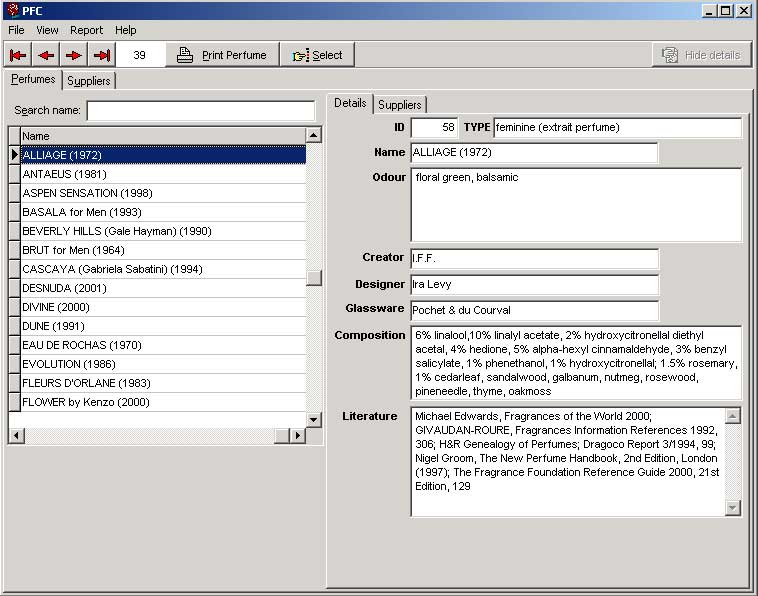 View of the Demostration database screen
PRICE: U.S. $2775.00) - This product price is for a non-exclusive license granting rights to use the Perfumes & Fragrances Classification Database and product files on two (2) personal computers or work stations. A separate license agreement and fee is required for each additional personal computer or work station on which the product is used. For each additional user at the same location add U.S. $250.00.
To order or for demos - write or Email:
LEFFINGWELL & ASSOCIATES
4699 ARBOR HILL ROAD
CANTON, GEORGIA 30115 USA
Phone: + 1 770 8895111 ....Fax: +1 770 8870089
Email: leffingwell@mindspring.com
PFC - Perfumes & Fragrances Classification database is a product of Boelens Aroma Chemical Information Service (BACIS) distributed exclusively by Leffingwell & Associates.
Copyright © by Leffingwell & Associates