PMP 2001 - Database of Perfumery Materials & Performance
Chemical Identities, Odour Descriptions, Performance, Application and references to RIFM monographs (where possible) of more than 4,100 perfumery materials;
Stability Records of all materials in 21 endproducts and in water pH 1 - 12;
More than 3,200 Commercial Names and Synonyms with suppliers;
The possibility to search on Chemical Identity, CAS number, Odour Description and Stability.
(Version 2001 / 5th Edition; 1 CD-ROM; Size: 19.9 MB; Network version available)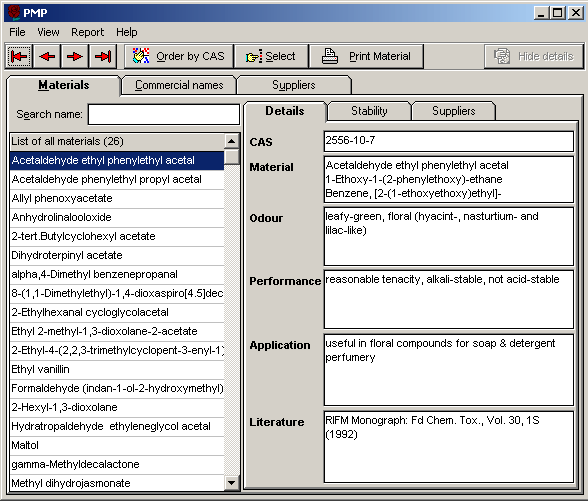 View of the Demostration database screen
PRICE: U.S. $2775.00 - This product price is for a non-exclusive license granting rights to use the Perfumery Materials & Performance Database and product files on two (2) personal computers or work stations. A separate license agreement and fee is required for each additional personal computer or work station on which the product is used. For each additional user at the same location add U.S. $250.00.
To order or for demos - write or Email:
LEFFINGWELL & ASSOCIATES
4699 ARBOR HILL ROAD
CANTON, GEORGIA 30115 USA
Phone: + 1 770 8895111 ....Fax: +1 770 8870089
Email: leffingwell@mindspring.com
PMP 2001 - Database of Perfumery Materials & Performance is a product of Boelens Aroma Chemical Information Service (BACIS) distributed exclusively by Leffingwell & Associates.
Copyright © by Leffingwell & Associates