ESO 2000 (update 2006) - The Complete Database of Essential Oils
More than 4,125 Quantitative Analyses of Essential Oils including Latin names and references;
Chemical identities and CAS numbers of more than 4,200 natural compounds;
Retention indices on various GC-columns (DB-1, DB-5, CBWX 20M, SPCWX 10, OV-101, SE-54) of about 2500 compounds.
The new ESO 2000 (update 2006) has 33% more analyses with 21% more chemical compounds than its earlier version.
(Version 2000 (update 2006) / 1 CD; Size: 40 MB); (Requires Windows 98, XP, Windows Vista (32 bit), Windows 7 or 8 (32 bit) - OR for 64 bit systems, it requires Windows virtualization); The preferred virtualization solutions are VMLite or VMware Player . See - Running ESO 2006 or VCF 2000 in Virtual mode.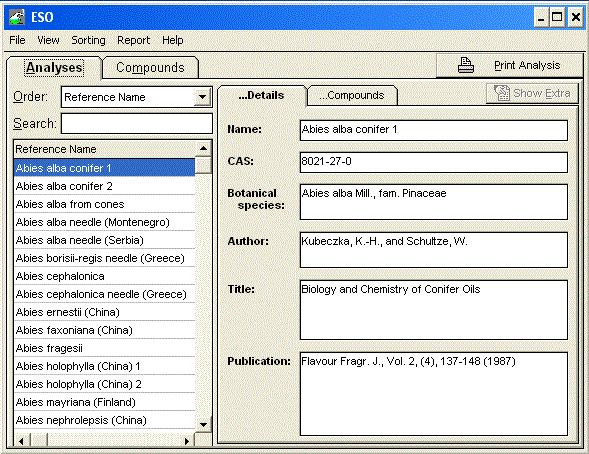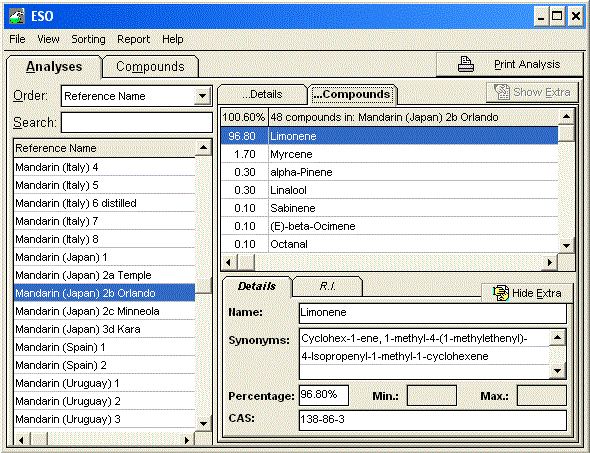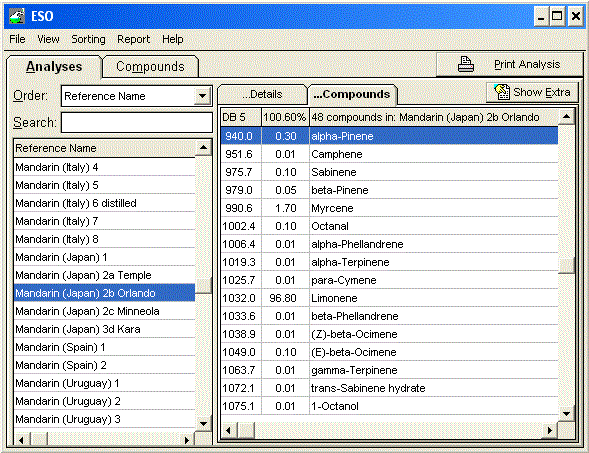 PRICE: U.S. $2775.00 - This product price is for a non-exclusive license granting rights to use the ESO 2000 (update 2006) Database and product files on two (2) personal computers or work stations. A separate license agreement and fee is required for each additional personal computer or work station on which the product is used. For each additional user at the same location add U.S. $350.00.
To order or for demos - write or Email:
LEFFINGWELL & ASSOCIATES
4699 ARBOR HILL ROAD
CANTON, GEORGIA 30115 USA
Phone: + 1 770 8895111 ....Fax: +1 770 8870089
Email: leffingwell@mindspring.com
ESO 2006 - The Complete Database of Essential Oils is a copyrighted product of Boelens Aroma Chemical Information Service (BACIS) which is published & distributed exclusively by Leffingwell & Associates.
Copyright © by Leffingwell & Associates